This past Sunday, I launched a book about my dog. The book (entitled He Found Me) tells the story of the special little pup I rescued while living in Panama. Unlike other book launches I've done, I didn't take this one very seriously. I had fun with it. I made goofy graphics of Dobby. I had my husband take some candid photos of us hanging out and reading his book together (he's definitely more engrossed in the treat on my shoulder than the book in my hands!).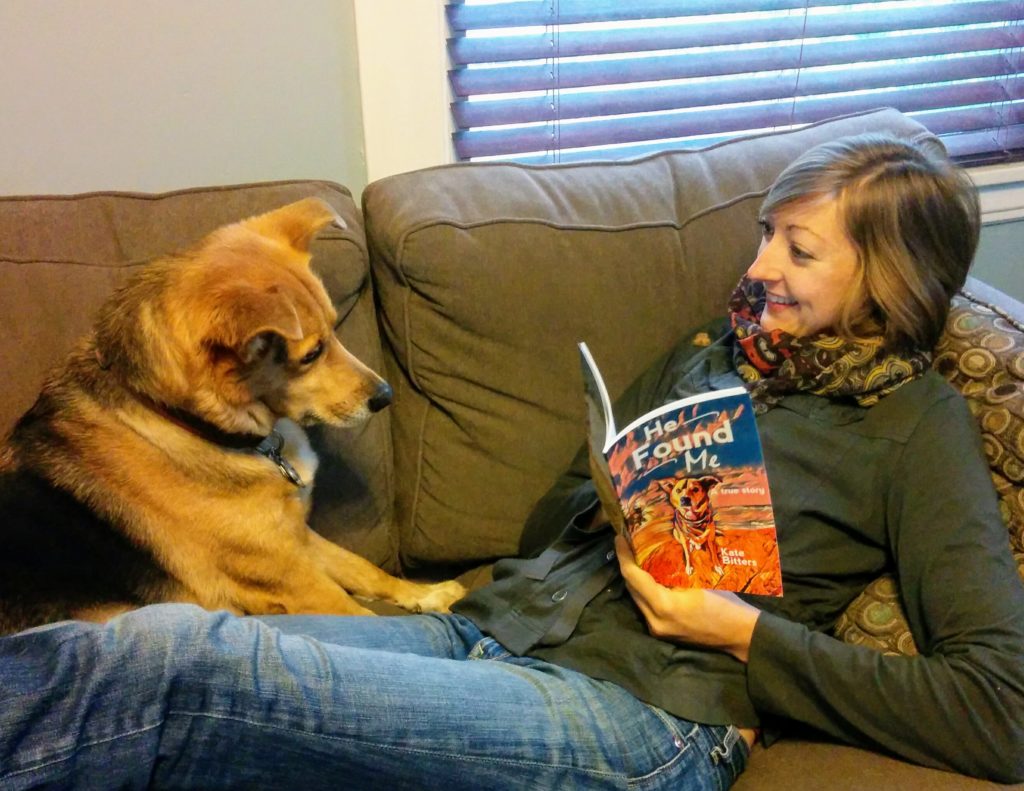 And you know what, I liked this low-pressure approach.
I wrote this book for fun (and because my parents have been asking for years, "When are you going to finish that book about Dobby?") and I don't expect to make gobs of money off it. In fact, I'm giving half of all my profits to The Animal Welfare Institute. But the thing is, the book IS selling. That's the thing–when you're overly salesy and hype your product (book) too much, people smell the desperation. If people are interested in what you've written, they'll buy it. Sure you have to do some marketing, but you don't have to keep flicking them in the face. And if they're not interested, they'll pass.
Simple as that.
I'm not into tricking people when it comes to marketing. I want them to know exactly what they'll get. In this case, they'll get an early reader (think "my first chapter book") nonfiction story about a dog. Simple. It's a book that's great for animal lovers, elementary-aged children, and parents (or aunts/uncles/grandparents). Not so great for academics, people looking for a new novel, or fans of literary fiction.
What I'm trying to get at is this: Marketing a book should be like marketing dentures. Either it's a good fit for your audience…or it isn't.
Marketing a book is like marketing dentures. Either it's a good fit for your audience, or it isn't.…
Click To Tweet
Sure, there are some people out there who might like a genre that they've never before explored, but most people already know what they like. It's tough to market experimental horror to fans of traditional, happy endings romance (double entendre intended).
As a self-published author, I'm largely on my own when it comes to marketing. I've talked to many other authors who lament this fact, who complain that marketing can be such hard work (I admit, I've griped about it more than once!). All we want to do is write, damn it! And customers will miraculously sniff out our books, write glowing reviews, and make us millions! Mmm, no. I wish!
But since we have to do our own marketing, we might as well have fun with it, right?
If there is anything I learned from Dobby's book launch, it's that having fun not only sells books, it's a sustainable business model. I actually want to post goofy pictures of my pup. I want to create goofy graphics of Dobby riding in a space ship. When I start taking book-selling too seriously, I get anxious, I constantly check my stats, and I start to dread social media.
…And books should never cause that much stress.*
*Unless they're written by Stephen King and meant to scare your trousers off.
Kate Bitters is a Minneapolis-based author and freelance writer. She is the author of Elmer Left, Ten Thousand Lines, and He Found Me. One of her proudest/nerdiest moments was when Neil Gaiman read one of her short stories on stage at the Fitzgerald Theater.